Where's My Water? 2
1.8.0
Physics Puzzle – Can You Get Water to Swampy?
Do you like solving puzzles? Would you help people in need of water? If yes, then this physics puzzle is a game that you would find to your liking. Where's My Water? 2 is an interesting game in which you have to find a way to get the water supply restored for Swampy and his friends. It requires you to pay attention to gravity and fluid flow when trying to get water back to the pipes. You will have to dig through the dirt to get the water flowing downwards. There will be obstacles in your way in the form of rocks and blockades. You will have to find a way around the rocks and remove the blockades while also collecting any duckies that you see on the way down.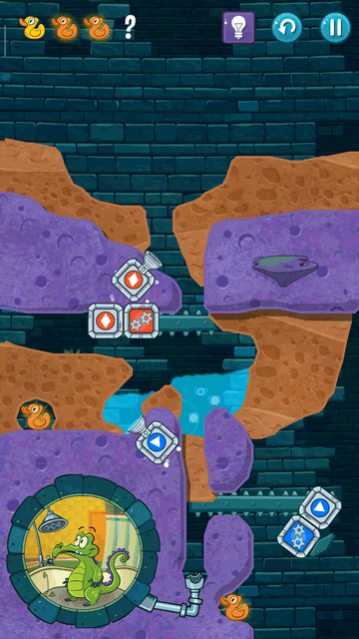 Where's My Water? 2 has slick gameplay and nice graphics. Moreover, its controls are very intuitive and easy to understand and master as well. The mechanics of this game are based on the laws of physics. So, having a little understanding of concepts of gravity and fluid flow will come in handy when playing this physics puzzle game. However, since it is easy to play, you will quickly learn the core concepts within a few minutes of playing it. Your job in this game is to dig a route for the water so that it can reach Swampy and his friends who have run out of water. Digging the route requires you to simply swipe the finger over the dirt and it will move away to let the water through.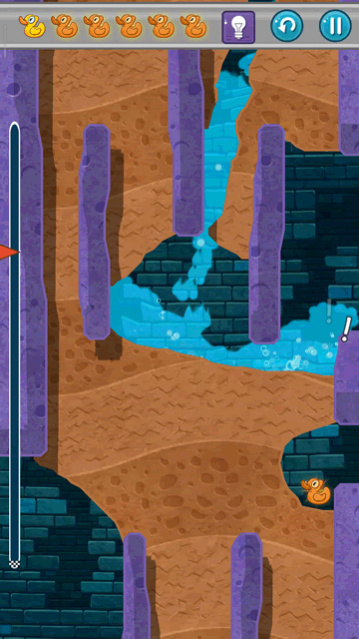 This physics puzzle game has multiple game modes to offer you. There is the linear mode which comprises of lots of unique and challenging levels. In each level, your ultimate goal is the restoration of water supply. However, as a side mission, you also need to collect as many duckies as you can as you figure out how the water supply can be restored. You will have to deal with various blockades and obstacles that will hinder water flow in each level you play. After you have cleared a level in the linear mode, you get to play it in a Challenging mode with some kind of constraint or twist applied to the game settings. For instance, in some levels, you might have to flip the phone to play while in others you have to avoid collecting the duckies.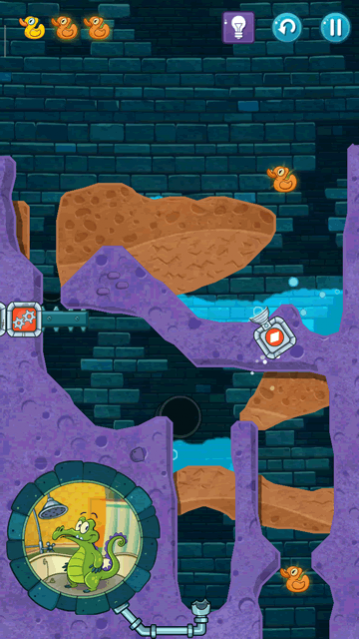 Where is My Water? 2 can become seriously challenging as you continue to clear the levels. You might find it harder and harder to solve the physics puzzle put in front of you in some of the advanced levels. However, there is no need to worry. There are power-ups available that can help you in clearing these difficult levels that have become a stumbling block for you. These power-ups can go a long way in not only clearing the main objective but also the side mission of collecting the duckies. Aside from the power-ups, there are hints available in this game too. You can avail these hints to solve the water supply problem in the difficult levels.
Features:
Multiple game modes
Lots of challenging levels
Different challenges to complete in each level
Remove dirt to bring water down
Collect as many duckies on your way down
Dig carefully to not let the water spill off
Clear away the obstacles blocking water flow
Multiple locations to play in
Three different characters to meet
Lots of different achievements to complete
Hints available to help solve puzzles
Various power-ups on offer
Conclusion:
Where's My Water? 2 is a gaming app which is designed for people who love solving puzzles and figuring out solutions for different problems. It presents challenging physics-based challenges to them and sees if they can bring down the water supply to those in need of it. It is an excellent physical puzzle game to have on your phone.
---
Add a review
Tell us your experience with
Where's My Water? 2
1.8.0
RELATED PROGRAMS
Our Recommendations
---
---
---
---